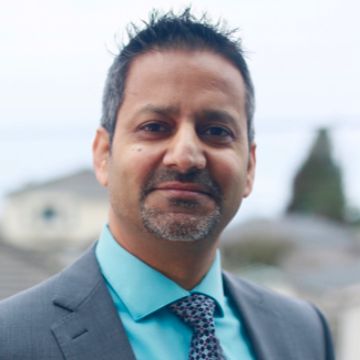 Satish Thakur
Personal Real Estate Corp
RE/MAX Masters Realty
Vancouver, British Columbia
Real Estate Insights
Canadian House Prices Now 46% Higher Than U.S
About Satish Thakur
Hello, My valued Clients; I am your local Real Estate Buying/Selling expert with 20years of professional experience.I have had great success helping my Real Estate clients/family/friends with what they have been looking for, as every real estate buying/selling need is unique. I provide you with the exceptional professional service you deserve with excellent efficiency. I tailor my services to fits your needs and guide you step by step from beginning till your transaction is complete.
The expertise in both the Real Estate / Mortgage industry comes in handy to thoroughly analyze your needs (if clients require my mortgage expertise). This empowers my clients and makes them feel confident in their buying/selling decisions for the right property at the right moment.
I live in Killarney and have resided in Fraserview and other areas. I have been a full-time Sr. Realtor for over 20yrs as well Part-time Sr. Mortgage Manager and work with an experienced team to assist me.
I am just a phone call away for your real estate needs.
I am certified:-
Negotiating & Presenting Offers; Appraisal Valuation Model;
Foreclosure & Court Order; Win/Win : Conflict Resolution;
Specialize in Land Assembly, Acquisition & development.
Residential & commercial
I am currently with Dominion Lending Centres. You can find out more about it at https://bestmortgagevancouver.ca. I was also Nominated as TOP 5 Commercial Mortgage Broker across Canada in 2011 by Canadian Mortgage Association "CMP", thanks to my valued clients, lenders, and partner who supported me in achieving this recognization in the mortgage industry.
Specializing in
City Expert
First Time Home Buying
Investments
Negotiation
Condos
Homes
Townhomes
Luxury Homes
Commerical
Development
Construction
Single Family Homes
Pre Sales
Working With Investors
Vancouver Real Estate
Working With First Time Home Buyers
Buyer Representation
Seller Representation
Commercial Real Estate
Senior Agent
Homes
Luxury Homes
Downsizing
Working With Investors
Buyer Representation
Seller Representation
Marketing
Market Knowledge
Testimonials
Check out my testimonials https://rankmyagent.com/satishthakur/

More

Buyer and Seller

Anil Pathak Reviewed 3 hours ago Satish helping us Sell in August, 2020 5/5 He is very knowledgeable, punctual, gives you good professional advice. He replies quickly to my calls and most of all he knows what he is doing....Surrey, BC

A & G Pathak - Surrey,BC

Seller

Jaswant Bhopal Reviewed 4 days ago Satish helped us sell in January 2020 5/5 I have known Satish for over ten years. Satish is a very knowledgeable, highly skilled, and experienced realtor with a kind attitude. He is excellent- - Langley, BC

Dr. J. Bhopal -- Langlay

Buyer and Seller

Sanjit Prasad Reviewed 1 month ago Satish helped us buy in July 2020 5/5 I have known Satish for past ten years He helped me purchased my property He understands the market very well he's customer service is excellent I will definitely use & refer his...

Read more

S. Prasa -Cloverdale BC

Buyer

My special thanks to Satish for the wonderful job you did on helping us to purchase our home. The extra time and effort you put in show your high professionalism and excellent customer service. It was a joy to work with such dedicated and talented person....

Read more

Anil - Surrey, BC

Buyer and Seller

Very knowledgeable and great customer service skills, takes time and doesn't rush you, And always gets you the lowest price possible, I highly recommend Satish. You've helped to buy my property, Burnaby, BC

Sid S. - Burnaby, BC

Buyer

We had a very good experience working with Mr. Thakur. He was far and above our expectations. Not only he helped us sell our condo but also helped in buying a new house. The best part was the easy transition from selling a house to buying a new one....

Read more

Gourvi P.-Surrey BC

Buyer and Seller

Satish was very helpful and found us our dream home. He took the extra step to listen to all our demands and the things we were looking for in our new home and did exactly that. We could not be more pleased with our experience with Satish and recommend...

Read more

Jasmine B.-Delta, BC

Buyer and Seller

Satish is absolutely amazing. He helped us to buy our first home. he was incredibly helpful from start to finish. He is always available whenever we have questions and very responsive to text msgs. we will definitely stay in contact with Satish and highly...

Read more

Jassie S. -Surrey, BC

Buyer

Very professional, outstanding industry knowledge! Helped us make an informed decision. We are impressed with his service and quick sale with the price we had in mind! You've helped to buy my property - 5/5

Sukh. B.- Surrey,BC

Buyer and Seller

Satish has a great attitude, deep knowledge of real estate, and finances, and is a skilled negotiator. He is kind and flexible. He speaks Hindi, Punjabi, and English. He is also a part of great a dynamic Asian team of realtors... Recent: Richmond BC...

Read more

Jas B. - Richmond,BC

Seller
Home Selling Tips with
Satish Thakur